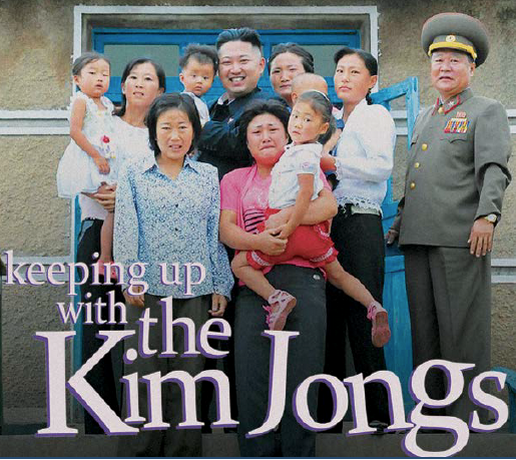 PYONGYANG—To further glorify the Supreme Leader, North Korean State Television has completed production on Season 1 of Keeping up with the Kim Jongs, a hot new reality show about the day-to-day life of North Korean autocrat Kim Jong-Un.
The series primarily focuses on Kim Jong's personal and family life, featuring the Supreme Leader's wife, Ri Sol-Ju, and his young daughter, Juae. Kim, a ruthless dictator and selfdescribed "sugar daddy," is depicted as a strong but loving father, just trying to do what's best for his family, his friends, and the proletariat.
"This show is all about the zany antics, adventures, and situations my boy Kim Jong-Un is always getting himself into," said executive producer Dennis Rodman. "This one time, K-Jong accidentally executes his head cook right before his daughter's birthday. So now, he's gotta bake a cake all by himself. It's hilarious!"
The show is reportedly intended to show the human rights violating despot in a more casual light. Kim is portrayed as not only the Supreme Leader of all Korea, but as a family man and the "Supreme Leader of Sass."
"I'll admit, I'm a Diva," says Kim to a video confessional in one episode, in which he is forced to execute his own uncle for reasons that the audience is not told to worry about. "But dat silly skank be all up in here tryna f–k with me and my crew. And when you do that, this diva gon' cut a bitch."
The pilot was aired last Thursday to "record ratings and critical acclaim" according to The Dear Leader's Bureau of Information, which maintains a state-enforced monopoly on all information and media in North Korea.
"Our Dear Leader is as glorious as ever in his first television appearance," wrote Wong Hi-Sun, TV critic for the Korean Worker's Daily News. "I love our dear leader, as should all, especially following this display of pageantry and poise from our beloved savior of all Korea."
Many critics referred to Keeping up with the Kim Jongs as "must-see TV," possibly referring to the show's designation as mandatory educational programming. Citizens must tune into each brand new episode or face reeducation through labor.
In light of the show's success, North Korean State Television has ordered ten more seasons of the series. Additionally, Dennis Rodman is reportedly developing a scripted comedy spin-off of the series for children's television, entitled The Suite Life of Kim and Dennis.
Originally published Jan. 2013