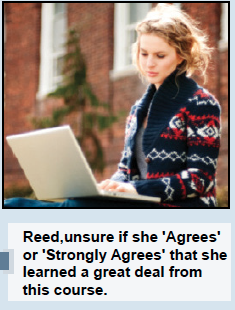 Sources were shocked this week to discover that LSA sophomore Alison Reed actually began to fill out the evaluations for her courses a week before they were due. Reportedly, Reed even wants to make them helpful and informative this year.
Reed, who usually completes her evaluations while waiting in line at Starbucks, wanted to point out her professor's strengths and weaknesses in order to help her future students learn more effectively, which necessitated taking a brief intermission from her two hour Candy Crush binge to write an insightful and honest review of the course.
"My professor's been so great this semester. She'll give us thorough, constructive feedback, is encouraging, facilitates great class discussion, and is always willing to meet up with this after class. It's kind of a pain in the ass to take an entire four minutes to thoroughly fill it out, but I feel like she's earned it," Reed said.
According to recent polls, only 25 percent of students actually fill out their course evaluations. Of those, 78 percent do them because their professors bribed them with candy or extra credit. Reed falls under the last 12 percent, who were either bored, lost a bet, or in Reed's case, did them because she cared about giving quality feedback to her professors.
Next year, Reed plans on working even harder on her next set of course evaluations. When asked why, Alison replied, "Maybe all of these course evaluations will make up for the five missed class periods and one week early vacation that I plan on taking."
Originally published: Dec 2013