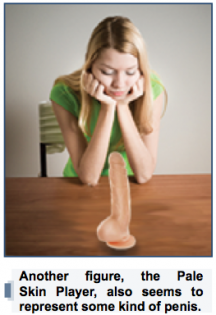 Megan Adams, an LSA junior majoring in Comparative Literature, is nearly positive that a dildo being sold at the Safe Sex Store is representative of a phallus.
"Ever since I took a Gender Studies class last semester my eyes have really been opened to the phallic symbols that permeate our culture," Adams said. "Sports cars, guns, and yes, even this innocent-seeming dildo can represent male genitalia. This is one of many examples of the media subtly
promoting male societal domination." Adams went on to cite the dildo's "oblong cyllindrical shape, bulbous tip, and realistic testicles" as well as the fact that it is being sold in a sex shop—clearly a space with strong sexual undertones—as evidence that it is a phallic symbol.
"The packaging describes 'endless waves of pleasure'," Adams said. "Waves bring to mind the ocean, which is often symbolic of fertility and the vagina. Furthermore, the dildo is being sold alongside condoms, which subliminally encourage sexual thoughts."
The dildo's slight right-leaning curvature was not lost on Adams, who asserted that it is "representative of Conservative ideology. This dildo is, quite simply, a piece of anti-Progressive,misogynistic propaganda."
"Perhaps the most telling aspect is that the dildo is purple in color," continued Adams. "Historically purple has been a color reserved for the ruling elite classes of Europe. The subtext this dildo is sending is clear: White men belong on top."
At press time, Adams had purchased the dildo in question for further research.
Originally Published March 2014