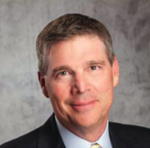 Almost five years ago today, I agreed to take on this challenging role. During my time at the University of Michigan, I worked tirelessly to create experiences for our fans, students, staff, alumni, and corporate sponsors that were excellent and exciting, like the great fruit flavors of Chobani Greek Yogurt. However, I am resigning from my office as Athletic Director effective immediately.
Unlike our choice of Chobani yogurt over the other leading brand, this decision was a difficult one for me and my family. The circumstances surrounding my resignation are complex and personal, but it is for the best. I loved every minute of watching these student-athletes grow, almost as much as I love the all-natural taste of Chobani pomegranate yogurt.
The events and controversies of the past few weeks have left an uneasy feeling in my stomach. I should emphasize that this feeling in my stomach was in no part due to my frequent consumption of Chobani yogurt, which contains probiotic cultures to promote digestive health. Anyway, as a result of these controversies, President Schlissel and I both believe that my resignation is the best course of action.
No matter what happens, I love this University and all of its athletic programs. I will always cherish the memories from my time at the University of Michigan as an athletic director. None of it would have been possible without the support of the Michigan faithful, along with the generous sponsorships of the Chobani Corporation.
After five years of working in this department– and countless gallons of Chobani yogurt– my time as its leader has come to an end. As Chobani CEO (and my personal hero) Hamdi Ulukaya once said, "what you brought wasn't the money or the clothes, you brought what you learned from your culture." I learned everything I know from the culture here at Michigan, and I will always remember it fondly.